| Item ID | Starting Bid | Bids | Current Bid |
| --- | --- | --- | --- |
| 63639 | $20.00 | 3 | $30.00 |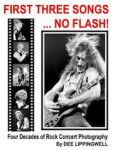 Autographed specifically for dalannah's benefit , book of photgraphy by Dee Lippingwell.
FIRST THREE SONGS…NO FLASH! is a solid follow up to her first book "The Best Seat In The House", which was released in 1987. Since then Lippingwell has been published all over the world, including Canada, England, Japan, Germany and the USA.
She was the recipient of Canada's Famous Women Award in 1980, by which she earned her title of distinction as the first woman in her field to garner such publication achievements and high profile. Most recently she was inducted to the BC Country Music Association Hall of Fame in 2011 in recognition of her photographic support to the association for well over 20 years.
Her photographs have adorned exhibit halls, magazines, newspapers, calendars, programs and, as well, she has photos in the National Library of Canada. Her work has been prominently featured in numerous other hard cover book publications, starting with the "Expo '86 Celebration" coffee table memoir. Included in a long list of photographic contributions are the most prominent, "Backstage Vancouver" by Gregg Potter and Red Robinson and "100 Years of Fun – The PNE Story" which was just released in 2011.
Lippingwell's love for music propelled her toward shooting local musicians back in the '70's and her success on that level led her into shooting the most famous of all rock idols on into the 80's, 90's and through the millennium, with thousands of images of some of the world's biggest stars in music in several genres.
Donated by Dee Lippingwell
Value: $40.00