| Item ID | Starting Bid | Bids | Current Bid |
| --- | --- | --- | --- |
| 60745 | $100.00 | 6 | $300.00 |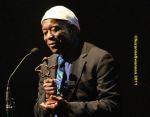 Renowned photojournalist Suzanne Swanson will shoot 12 promotional photos for use as publicity suitable for a band or single/duo act, and write a 100 word promotional piece that can be placed where the client wishes.
As a gifted photojournalist, Suzanne began her career in 1969 photographing Blues artists at the Texas International Pop Festival. This event took place two weeks after the famous Woodstock concert and included many of the same performers! Her drive and enthusiasm landed her a job working for MCA Records. This led to her photographing Lynyrd Skynyrd's first album cover. Many artists have used her intriguing photos, liner notes, articles and reviews since then. Throughout the ensuing decades, she further developed her skills in A & R consulting, managing, producing and even performing. Her artistry and pure love of music has taken her all over the globe. Suzanne is currently a member of many Blues societies including The Blues Foundation, The Washington Blues Society, The White Rock Blues Society and the American Federation of Musicians local #145. She also contributes her skills to several publications including the international publication Blues Matters Magazine, Elmore Music Magazine, American Blues Scene, Washington Blues Society 'Bluesletter', Washington Blues Blog, , and on-line music websites. Her ability to connect with the artists, and dedication to preserving Blues culture, has made her one of the genres' historians.
Content of photoshoot cannot be in contraventions of any Canadian or BC Law
Valid until July 13th, 2016.
Value: $1000.00 (Photos $850.00, article $150.00)